| | |
| --- | --- |
| August 9th: Live eGrand Rounds from Shanghai! | |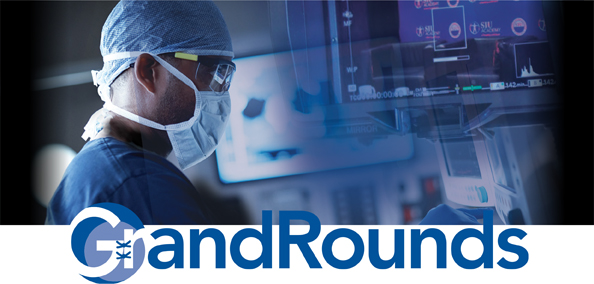 There is still time to register for our next special eGrand Rounds event. Our next stop: Shanghai!
On August 9th, join our high-profile faculty, led by Professor Jean de la Rosette, Drs. Chuanliang Xu, Qing Yang, Sixing Yang, and Xiaofeng Gao as they walk you through four surgeries of challenging cases.
Live from Shanghai, our experts will demonstrate state-of-the-art techniques for URS, mini-percutaneous nephrolithotomy (mini-PCNL), transurethral removal of bladder tumour (TURBT), and laparoscopic partial nephrectomy.
This event will be transmitted live from the Changhai Hospital, in Shanghai, China, from 0800 – 1600 China Standard Time (UTC + 8 hours).
Make sure to have your questions ready.
Programme Agenda
TIME
OPERATING THEATER
IN-STUDIO PANEL
MODERATORS
Pilar Laguna-Pes, The Netherlands
Jean de la Rosette, The Netherlands
0800–0830

Stavros Gravas, Greece
Masatoshi Eto, Japan

0830–1000

SURGERY I – TURBT
Chuanliang Xu, China

1000–1030

Stavros Gravas, Greece
Masatoshi Eto, Japan

1030–1200

SURGERY II
LAP PARTIAL NEPHRECTOMY
Qing Yang, China

1200–1230

Stavros Gravas, Greece
Masatoshi Eto, Japan

1230–1400

SURGERY III
URS FOR 1 cm STONE
Sixing Yang, China

1400–1430

Stavros Gravas, Greece
Masatoshi Eto, Japan

1430–1600

SURGERY IV – MINI PCNL
Xiaofeng Gao, China

1600
Closing remarks
| | |
| --- | --- |
| This program is supported by SIU's corporate sponsor | |
SIU Central Office 1155 Robert-Bourassa Blvd, Suite 1012, Montreal, Quebec, Canada H3B 3A7
Tel.: +1 514 875-5665 Fax: +1 514 875-0205 communications@siu-urology.org