Accompanying Person's Tours
Deadline to book tours is Friday, September 14, 2018.
Option 1: Half Day City Tour (9:00-12:00)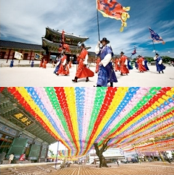 Essence of Seoul
Tour date: October 3, October 5, October 7
Price: $55 USD Per person
Built in 1395, Gyeongbokgung Palace is the Joseon Dynasty royal palace in Seoul that is the symbol of Korea and represents its national sovereignty. Insa-dong, located in the heart of the city, is an important place where old but precious and traditional goods are on display with galleries, traditional restaurants, traditional teahouses, and cafes. Just next to Insa-dong is Jogyesa Temple. It offers convenient transportation and modern benefits with sacred atmosphere as well.
Includes:
English Speaking Guide
Gyeongbokgung Palace Admission fee
1 Bottled water per person
Option 2: Half Day City Tour (9:00-14:00)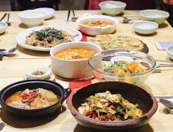 Culinary Experience
Tour date: October 4, October 6, October 8
Price: $120 USD Per person
You can make traditional Korean dishes such as Japchae, Bibimbap, etc. for 2 to 3 hours including traditional market tour and lunch. These dishes are Korean's everyday meal and surprisingly easy to make even for foreigners. Firstly, you will visit a local traditional market for grocery shopping. Our chef will teach you about the seasonal ingredients and how to distinguish fresh ingredients. After, you will learn how to cook a Korean home-style meal. You will have lunch with the food you made!
Includes:
English Speaking Guide
Cooking Class Admission fee
Lunch
1 Bottled water per person
For more information on these and many other tours please contact:
Lucia Grilli
Pacific World South Korea
lucia.grilli@pacificworld.com
Tel. : (+82) 2 570 3541
Mobile : (+82) 10 3145 1505
Fax : (+82) 2 575 9970