Register to SIU Academy

There are two ways that you may continue to view the wide range of rich and interactive content available on SIU Academy:
1. Apply and become an SIU Member to take advantage of numerous benefits, which include: exclusive access to SIU Academy, an annual online subscription to the World Journal of Urology, access to joint SIU-ICUD publications, significantly reduced registration fees at SIU Congresses, and more. For a complete list of membership benefits, and to fill out your membership application form, please click here.

2. If you are not an SIU member but would like to continue using SIU Academy, register and become an SIU Academy Regular Member for free and have access to 50% of the content available on the portal.
Please note: if you are not an SIU Member you will not have access to the exclusive content.

Click here to register now!
Here are 4 reasons you should continue to use SIU Academy: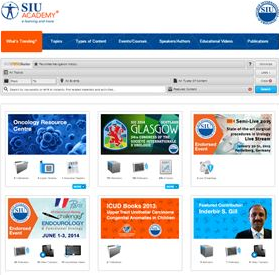 1.  A powerful tool for online learning: SIU Academy offers urologists an opportunity to expand their knowledge or improve their skill set.
 
 2. Rich content: Whether you're a trainee or a specialist, SIU Academy offers you a diverse array of educational content that suits your specific needs.
 
 3. Access anytime, anywhere: Download the free Talks on the Go™ and Poster on the Go™ apps on your mobile device to gain easy access to the content whenever you're online.
 
 4. Virtual education that is uniquely global: SIU stands by its mission of bringing urologists together. Our content is dynamic and reflects our goals to promote continuing medical education, share best practices and improve urological care worldwide.