Navigation Tips
SIU Academy is a powerful cloud-based educational resource developed for urologists. The portal can be accessed anywhere in the world. All users need is an Internet connection and a computer or mobile device to access this rich library of educational material including webcasts, case studies, live surgery videos and publications, to name a few.
The Academy is a source of relevant and timely information on a variety of urological topics. As a user, we want you to be able to navigate the portal and use it to its full potential.
SIU Academy is committed to enhancing the user's experience on our portal. In March 2015, several features of the portal's NavBar have been updated. Here are a few tips to help you navigate the portal using these enhanced features.
Using the NavBar
---
Using the Top and Bottom Panels
You will be able to filter the content at the same time by selecting Topics, Sub topics or Labels on the Bottom Panel.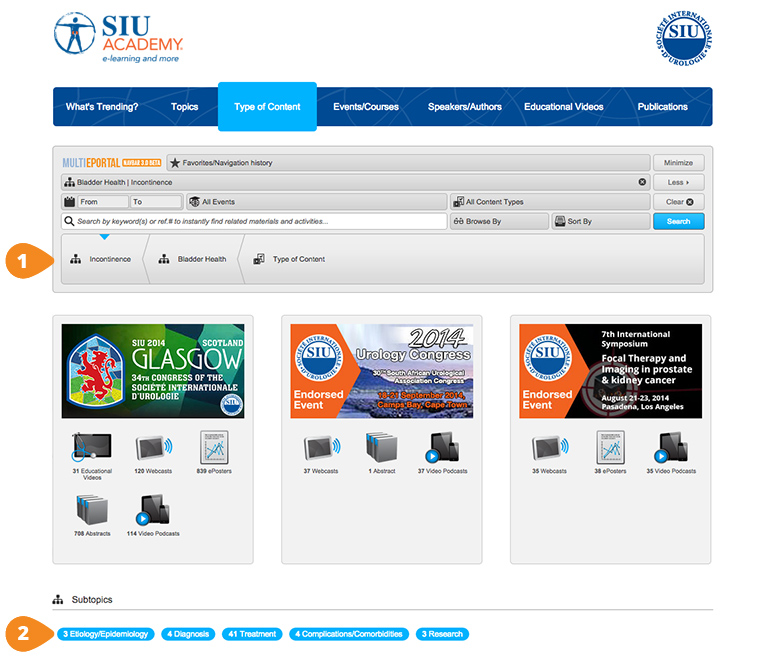 ---

Navigation path with ability to go backwards

Topics, Sub topics or Labels related to your search – can be clicked at any time to narrow down the results
---
Search using keywords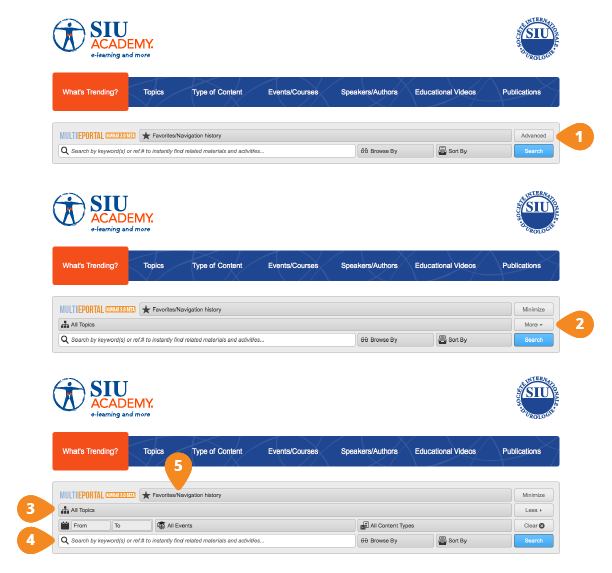 ---

Click on "Advanced" to expand the NavBar and see more searching options

Click "More" to have all the searching options

Navigate Using the Topics tree
Explore subjects that are of interest to you without typing a single word

Find resources using the search bar
Enter a keyword - or a combination of keywords - to get exactly what you are looking for

Revisit material using the "Favorites/Navigation History" filter
Use the convenient drop down menu to resume where you left off in a previous session
---
Using the Bottom Panel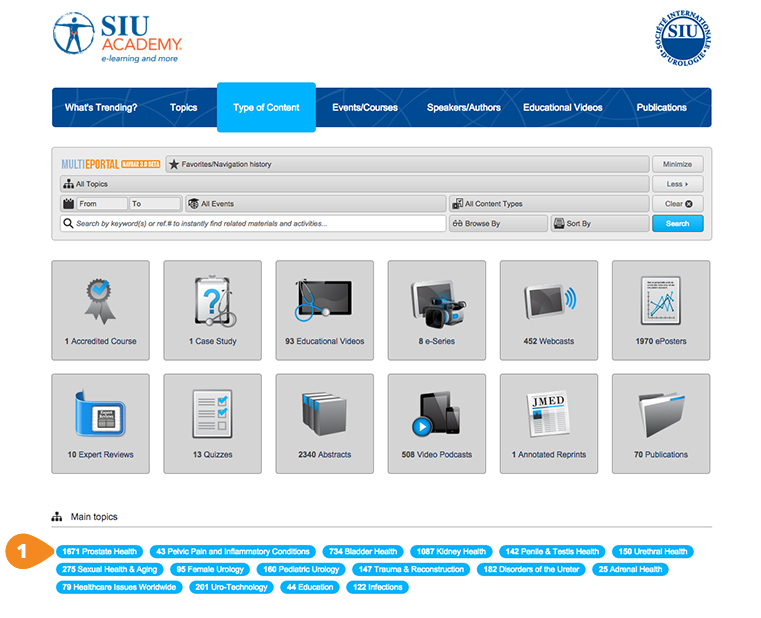 ---

Bottom Panel exposes default content when no query is done, which includes the number of records by topic.
---
Using the Bottom Panel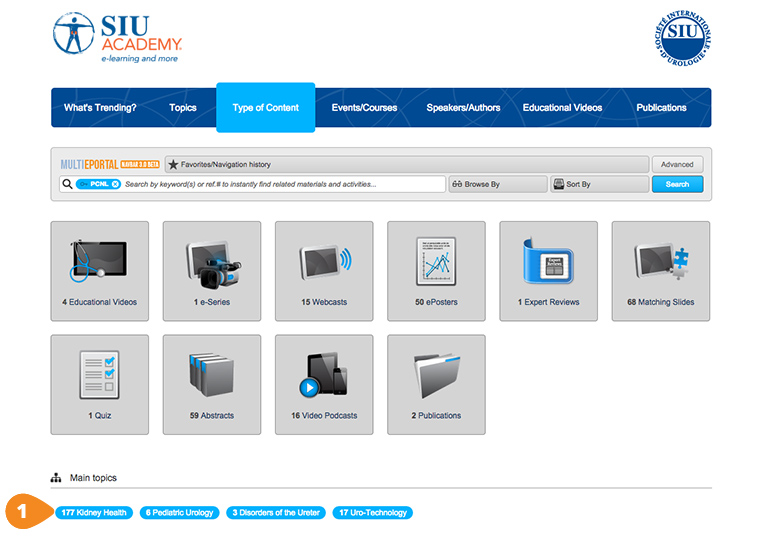 ---

Bottom Panel exposes content related to your search by topics or by keywords. Note: When no query is done, the bottom panel automatically defaults to show the total number of records for all topics.
---
Using the Top Panel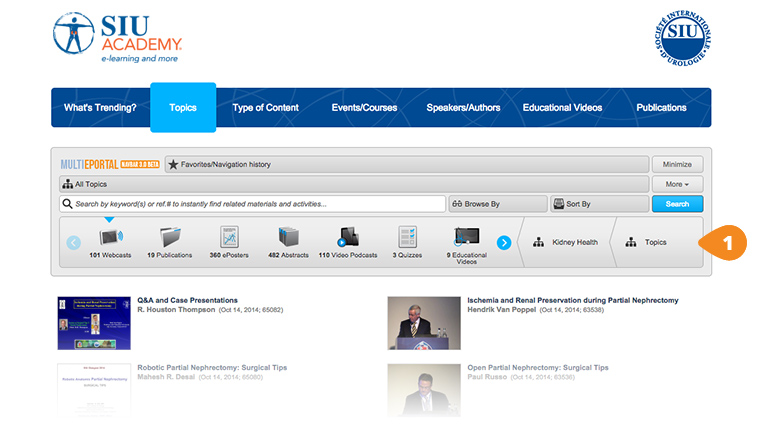 ---

Top Panel allows you to view the navigation path you are in. For example, in this case, it is showing a search was made via the topic tab:" Kidney Health". All other types of content related to this topic are shown here should you be interested in exploring further.
---
Editing your Profile
Once you login, you can update your profile and add your professional biography by clicking on "Edit Profile" at the top of your screen. Note that your name as you entered in this feature, will appear on any material you submit for SIU Academy.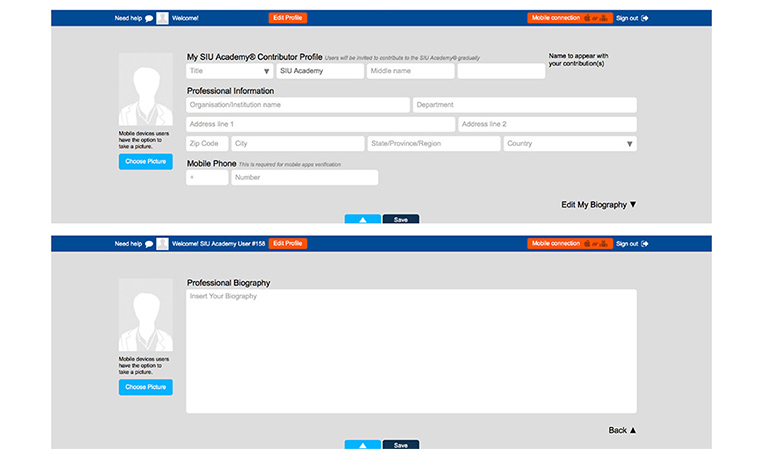 ---
Rating the content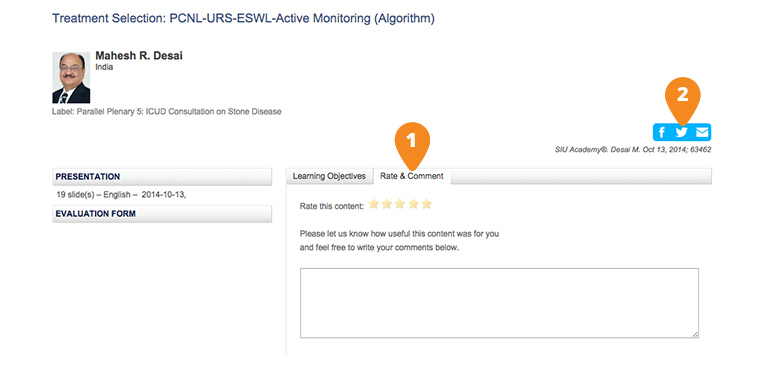 ---

Click here to rate and comment on the content

Share the content that you like
---