Training Scholarships
One of the cornerstones of the SIU's educational mission is its scholarship programme for young urologists (less than 10 years since MD qualification).

These involve training in a recognized institute located in the candidate's geographical area. There are also a limited number of opportunities for training abroad as a visiting scholar in an observational role. Both programmes offer the sum of $5,000 US for a period of 6 months.

To apply for an SIU Scholarship:
Download the SIU Scholarship Application Form below
Contact the SIU-recognized training centre(s) where you wish to conduct your scholarship and finalize all arrangements beforehand
To see a list of last year's recipients, please click here.
The SIU Scholarship Application is now closed.
SIU Central Office
1155 Robert-Bourassa Blvd., Suite 1012
Montreal, Quebec, Canada
H3B 3A7
Fax: +1 514 875 0205
central.office@siu-urology.org
CUASF-SIU International Scholarship Programme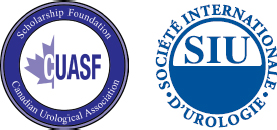 The objective of the CUASF-SIU International Scholarship Programme is to foster the improvement of urological care in developing countries, through the financial support of the international urological fellow trainees planning to return to their home country.
CUA-SIU International Scholarship Grant Deadline: April 3, 2018.
More details can be found here.