SIU 2020 Virtual Congress Scientific Programme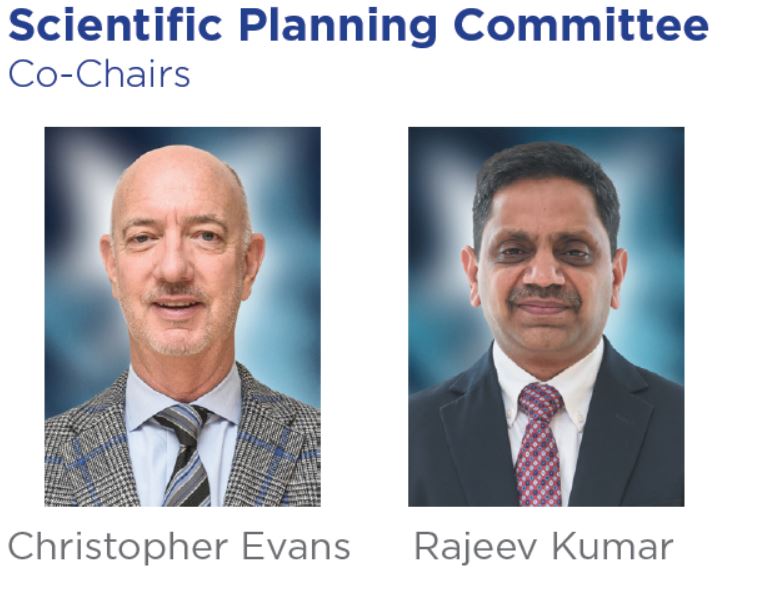 Behind the scenes, much work has been done to modify the existing SIU 2020 programme that had been designed for an in-person meeting to adapt to the new reality of virtual presentation. The SIU and Scientific Programme Co-Chairs, Drs Christopher Evans and Rajeev Kumar, thank all programme Chairs and Faculty who have contributed much of their time and expertise over the past 2 years. The programme for SIU 2020 Virtual will cover a wide range of topics and continue to offer the high-quality educational content that SIU attendees have come to expect.
The 2020 Congress Learning Objectives are as follows:
After this educational event, attendees should be able to:
Determine diagnosis and management of basic and complicated urological infections
Describe the role of eHealth, new diagnostic methods and delivery of urological education and care in the developing world
Summarize recent advances in molecular markers for urological diseases
Report the application of therapeutic modalities and management of complex stone disease
Discuss approaches to treatment of urological cancers
List recent advances in minimally invasive surgery
Describe the current management of lower urinary tract symptoms
Identify methods of dissemination of knowledge and care to underserved areas.
To view the up-to-date SIU 2020 Abstract Listings please click below:

Best ePosters (updated October 23, 2020)
Standard ePosters (updated October 23, 2020)
SIU 2020 Scientific Programme

Last updated: Oct 9, 2020
Please Note: All session times are listed in Eastern Daylight Time (EDT).
To view the PDF version, please click here.


Saturday, October 10
Please click on the session titles to view the session details when available.
0100-0115

PL-00: Welcome Message

Honorary Chairs: Christopher Evans, United States / Sanjay Kulkarni, India / Rajeev Kumar, India

0115-0120

PL-00: Award Ceremony

Honorary Chair: Reynaldo Gómez, Chile

0130-0220

PL-01: Plenary-Asia/Oceania

0230-0300

SYMP-01: Urological Association of Asia (UAA) Symposium

Co-Chairs: Allen W. Chiu, Taiwan / Chun-Te Wu, Taiwan

0300-0400

CO-01: Controversies in Urology 01 - New Challenges in Imaging and Management of Oligometastatic Prostate Cancer

Co-Chairs: Prasanna Sooriakumaran, United Kingdom / Derya Tilki, Germany

0300-0400

JS-01: Joint SIU-International Society of Reconstructive Urology (ISORU)/Society of Genitourinary Reconstructive Surgeons (GURS) Session - Anterior Urethroplasty

Co-Chairs: Sanjay Kulkarni, India / Jeremy Myers, United States
Moderators: Jill Buckley, United States / Andre Cavalcanti, Brazil / Justin Chee, Australia / Francisco E. Martins, Portugal

0430-0500

SYMP-03: Joint SIU-Korean Urological Association (KUA) Symposium

Chair: Kyu-Sung Lee, South Korea

0500-0600

PL-02: Plenary-Europe/Africa

0600-0700

IC-01: Instructional Course 01 - Lower Urinary Tract Symptoms and Urinary Tract Infections in Children

Chair: M. Ihsan Karaman, Turkey

0700-0755

IC-02: Instructional Course 02 - Gender Affirmation Surgery: Role of the Urologist

Chair: Miroslav Djordjevic, Serbia

0800-0900

MC-01: Master Class 01 - Hypospadias Surgery for the General Urologist

Co-Chairs: Rados Djinovic, Serbia / Joao Luiz Pippi Salle, Qatar
Moderator: Aseem Shukla, United States

0800-0915

SYMP-04: Symposium: Multidisciplinary Management of Early Stage Bladder Cancer

Chair: Peter Black, Canada

0930-1045

PL-03: Plenary-Americas

1100-1145

MC-03: Master Class 03 - New Technologies in Stone Removal

Co-Chairs: Petrisor Aurelian Geavlete, Romania / Amy Krambeck, United States

1100-1150

IC-03: Instructional Course 03 - Lymphadenectomy in Urologic Cancer

Co-Chairs: Sia Daneshmand, United States / George Thalmann, Switzerland

1145-1300

SYMP-05: Symposium: Up Close and Personal: Talking to your Patients about Overactive Bladder

Chair: Lysanne Campeau, Canada

1300-1400

SYMP-06: World Urologic Oncology Federation (WUOF) Symposium

Co-Chairs: Peter Hammerer, Germany / Laurence Klotz, Canada

1400-1425

KN-01: Keynote Speaker

1900-2000

MC-02: Master Class 02 - Genomic Testing and Recurrence in Prostate Cancer

Co-Chairs: Shusuke Akamatsu, Japan / Marc Dall'Era, United States
Sunday, October 11
Please click on the session titles to view the session details when available.
0230-0250

JS-02: Joint SIU-International Continence Society (ICS) Session

Co-Chairs: David Manuel Castro Díaz, Spain / Stavros Charalampous, Cyprus

0300-0400

SYMP-07: Indian Urology Symposium

Chair: Rajeev T P, India
Moderators: Madhu Sudan Agrawal, India / Kim Mammen, India

0300-0405

MC-04: Master Class 04 - Establishing Standardized Outcome Reporting in Your Urology Practice

Co-Chairs: Matthew Cooperberg, United States / Ghulam Nabi, United Kingdom

0400-0420

JS-03: SIU-Society of Urologic Oncology (SUO)/EAU Section of Oncological Urology (ESOU) Session

Co-Chairs: Christopher Evans, United States / Morgan Roupret, France

0400-0500

CO-02: Controversies in Urology 02 - Controversies in the Management of Kidney Cancer

Co-Chairs: Surena Matin, United States / Amlesh Seth, India

0430-0530

IS-02: Interactive Session 02 - Management of Penile Cancer including Organ-Sparing Approaches

Co-Chairs: Nicola Nicolai, Italy / Curtis Pettaway, United States

0500-0550

IC-04: Instructional Course 04 - The Current Situation of Antimicrobial-Resistant Pathogens In Urological Fields

Co-Chairs: Satoshi Takahashi, Japan / Koichiro Wada, Japan

0530-0630

IC-05: Instructional Course 05 - Metabolic Work Up and Medical Treatment of Stones

Chair: Mohamed El-Shazly, Egypt

0600-0700

IC-06: Instructional Course 06 - Urethral Stricture Surgery

Chair: Sanjay Kulkarni, India

0630-0650

JS-04: Joint SIU-Endourology Session

Co-Chairs: Mahesh R. Desai, India / Jorge Gutierrez, United States

0730-0830

IC-07: Instructional Course 07 - The Many Phenotypes of Neurogenic Bladder

Co-Chairs: John Stoffel, United States / Blayne Welk, Canada

0730-0830

SYMP-08: The Future of IPP: The Art and Science of Meeting and Exceeding Patient Expectations

Chair: David Ralph, United Kingdom

0830-0930

IC-08: Instructional Course 08 - Urologic Endoscopy in Resource Restricted Environments

Chair: Kymora Scotland, United States

0830-0930

IC-09: Instructional Course 09 - E-Health, Digital Health, Telemedicine: Teleurology 101 — Getting Connected

Co-Chairs: Emmanuel Abara, Canada / Michael Borofsky, United States

0930-0950

KN-02: Keynote Speaker

1000-1045

INN: SIU Innovators Symposium - Prostate Cancer Debate

Chair: Ashish M. Kamat, United States
Co-Chairs: Dean Elterman, Canada / Imogen Patterson, Australia

1130-1150

JS-05: Joint SIU-Society of Urologic Robotic Surgeons (SURS) Session

Chair: Jihad Kaouk, United States

1300-1400

MC-05: Master Class 05 - Managing Lower Urinary Tract Dysfunction in Renal Transplantation

Co-Chairs: William Nahas, Brazil / Puneet Sindhwani, United States

1400-1530

IC-17: Instructional Course 17 - A Multidisciplinary Team Approach to the Treatment of Urothelial Carcinoma in the Age of Anti-PD1 Agents

Chair: Shaheen Alanee, United States

1530-1550

PL-00: Closing Message

Honorary Chair: Jean de la Rosette, Türkiye