B2B Uro-Oncology: GU Cancers Triad Meeting Proceedings
December 16th 2020

Day 1 - Bladder and Kidney Cancers
Bladder Cancer
The session on bladder cancer (BCa) took place on the morning of Saturday, November 7. It was chaired by Dr. Peter Black (Canada).
This session covered topics on practice-changing advances on the horizon, evolving therapies for non–muscle-invasive BCa (NMIBC), bladder preservation strategies, and systemic therapy for advanced disease. These sessions were supported by a question-and-answer session, as well as case presentations.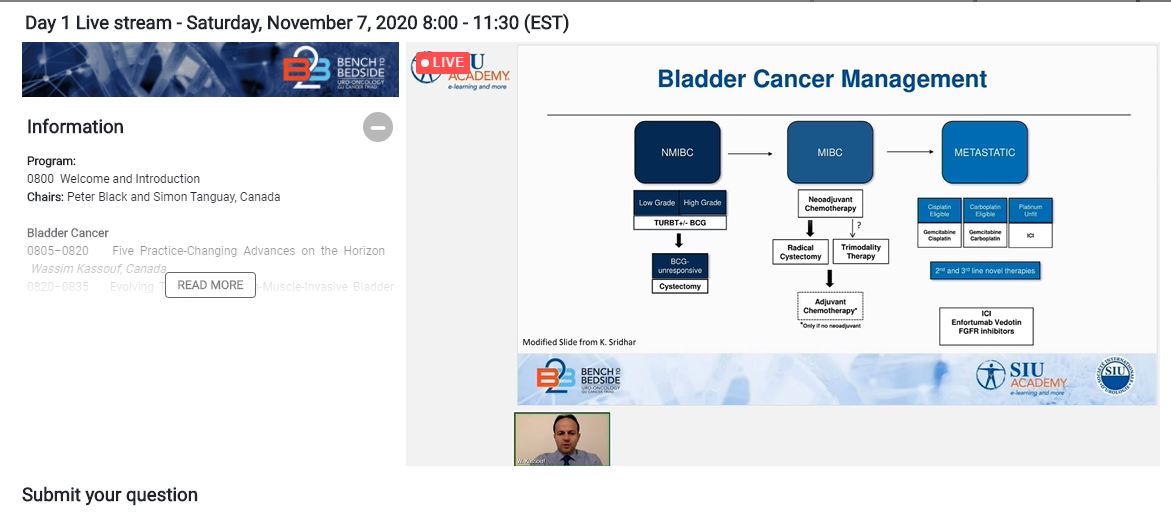 The first presentation, by Dr. Wes Kassouf (Canada), was on five practice-changing advances on the horizon for BCa, all five of which are influenced by the recent availability of immunotherapy. The first of these is a move toward increasingly conservative management options for bacillus Calmette-Guérin (BCG)-unresponsive disease. Only valrubicin is US Food and Drug Administration (FDA)-approved for BCG-refractory carcinoma in situ, and this approval was based on a disease-free rate of only 4% at 24 months. Immunotherapy likely provides better therapeutic benefit and greater potential for bladder preservation. Dr. Kassouf described four trials that recently reported results in this context.
The second advance relates to use of neoadjuvant immunotherapy in combination with chemotherapy prior to radical cystectomy (RC) for muscle invasive BCa (MIBC), while the third related to use of nivolumab specifically following RC in non-organ confined MIBC. Dr. Kassouf described early results of recent trials supporting these approaches.
The fourth advance is the integration of immunotherapy with trimodal therapy (TMT). This can take place in the neoadjuvant space, concurrent with TMT, or in the adjuvant setting. An ongoing challenge relates to identifying the best sequences and combinations in terms of both efficacy and toxicity.
Finally, Dr. Kassouf discussed the fifth advance, the use of maintenance therapy with avelumab as a first-line option in metastatic urothelial carcinoma (mUC). The benefits of this approach were demonstrated in the JAVELIN Bladder 100 trial, including an impressive improved overall survival among patients who received avelumab. Based on this trial, the FDA approved first-line maintenance avelumab in patients with advanced UC, independent of programmed cell death 1 ligand 1 (PD-L1) expression.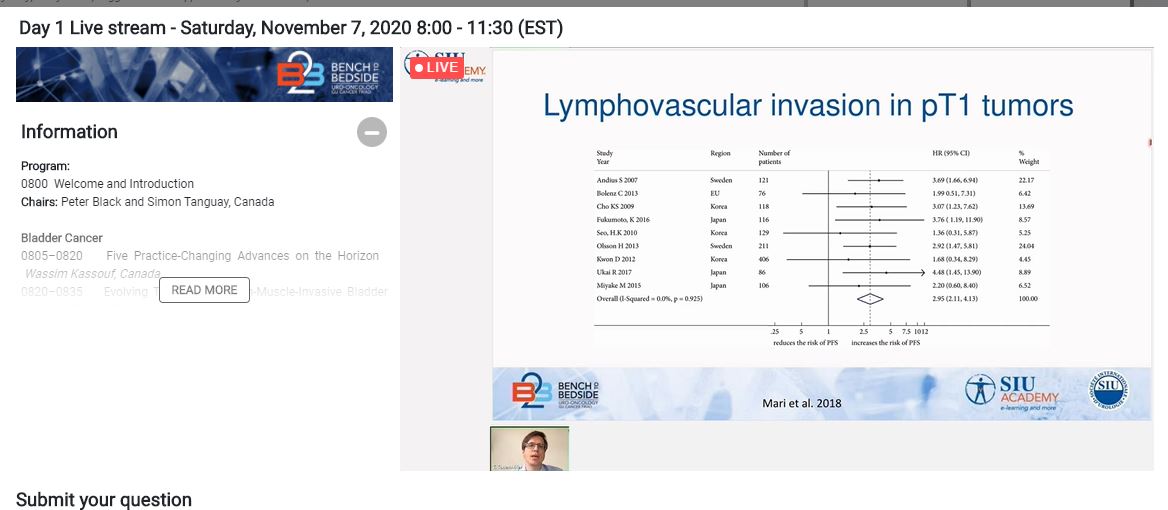 Next, Dr. Tilman Todenhöfer (Germany) discussed evolving therapies for NMIBC. He talked about the most recent developments in this field, focusing on high-risk disease, for which there is a need for better therapies. He emphasized three challenges that require attention: 1) lack of adequate models to predict progression risk and long-term response to BCG; 2) worldwide BCG shortage, which is particularly problematic in underdeveloped countries; and 3) lack of options for patients with recurrence after BCG.
Shortages of BCG can be addressed via drug conservation strategies, such as reducing the dose or number of administrations. To date, evidence suggests that risk of recurrence increases with fewer doses but may not with the same number of administrations of lower doses. At this time, there are no alternative treatments that offer similar benefits to BCG.
In BCG-unresponsive disease, promising results were achieved recently with a combination regimen of intravesical docetaxel and gemcitabine. Response to intravesical chemotherapy may be improved with use of a slow-release device called TAR-200 (GemRIS™), which is currently being assessed in a randomized trial. Investigational drugs for this setting include the protein fusion drug oportuzumab monatox and systemic immunotherapy, with or without the addition of checkpoints inhibitors. Also under investigation are gene therapy (nadofaragene firadenovec) and targeted systemic therapy (erdafitinib).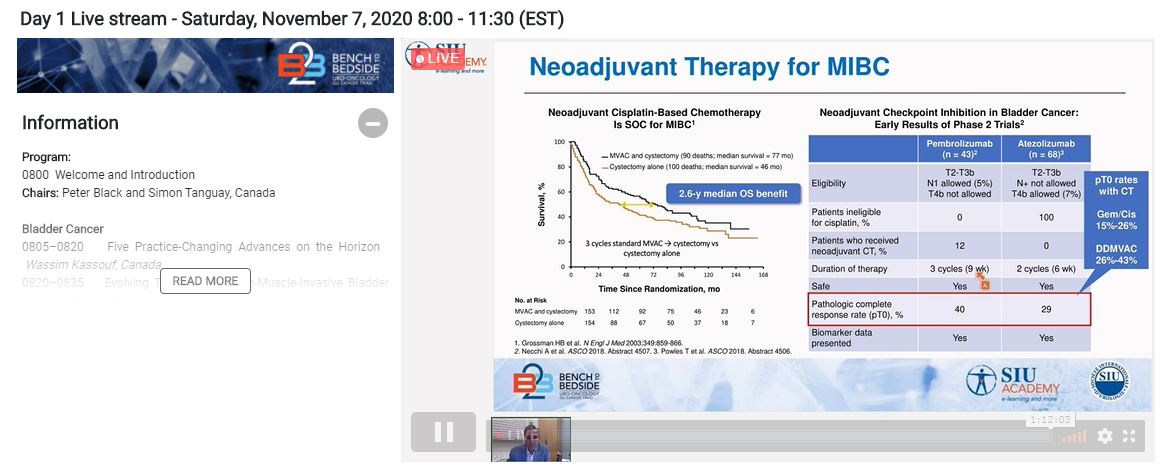 The next presenter, Dr. Arjun Balar (United States), provided his perspective on advancing MIBC management in the modern era of cancer immunotherapy. In this setting, there is a need to provide more localized, bladder-sparing assessments and treatments.
While neoadjuvant chemotherapy has been the standard of care for years in MIBC, there is early evidence of the benefit of immunotherapy, notably from the ABACUS and PURE-01 studies. Ongoing randomized studies investigating neoadjuvant immunotherapy in UC include NIAGARA and ENERGIZE. In addition, KEYNOTE-905 and KEYNOTE-866 are exploring the role of chemotherapy plus immunotherapy.
Next, Dr. Balar spoke about the potential for bladder preservation with the use of immunotherapy and TMT. Until these approaches are evaluated in randomized trials, however, cystectomy will remain the standard of care. Some important trials exploring the combination of chemoradiation and immunotherapy include the SWOG S1806 study, KEYNOTE-992, and PACIFIC.
Finally, Dr. Srikala Sridhar (Canada) discussed systemic therapy for advanced disease in 2020. She focused on immune checkpoint inhibitors, antibody drug conjugates (ADCs), and targeted therapies, particularly in the metastatic setting. With regard to immune checkpoint inhibitors, she discussed the JAVELIN 100, IMvigor 130, KEYNOTE-361, and DANUBE studies.
Two promising ADCs are enfortumab vedotin and sacituzumab govitecan, said Dr. Sridhar. She also discussed the fibroblast growth factor receptor (FGFR) inhibitor erdafitinib, which has received accelerated approval based on the findings of the BLC2001 study. She emphasized the need to develop and use biomarkers to guide treatment selection as newer agents are approved and made available in the clinical setting.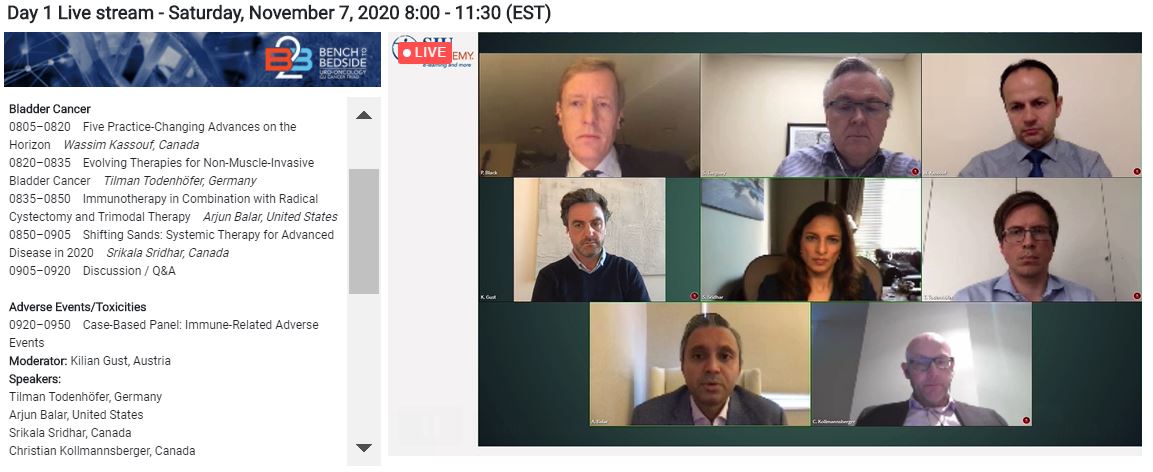 The session wound up with a question-and-answer session, followed by a case-based discussion. Questions related to the role of systemic therapy in MIBC, treatment of squamous cell carcinoma of the bladder, whether there is an age cut-off for BCG therapy, whether age plays a role in this treatment, as well how to select from among specific combinations of treatments.
The case-based discussion was led by Dr. Kilian Gust (Austria). One focus of this discussion was the management of immune-related adverse event/toxicities. The panelists also discussed when to consider systemic treatment lines after adjuvant platinum-based therapy, how to treat patients with renal insufficiency, when to discontinue immunotherapy treatment, and when to reinstate it. A special case based on the Coronavirus disease (COVID-19) pandemic was also presented.
Kidney Cancer
The session on kidney cancer took place on the morning of Saturday, November 7. It was chaired by Dr. Simon Tanguay (Canada). This session covered topics on selecting appropriate treatment for renal cell carcinoma (RCC), upcoming practice-changing advancements, how to adapt RCC care to changing times, and how to address immune-related adverse events. In addition, there was a case-based discussion and question-and-answer session.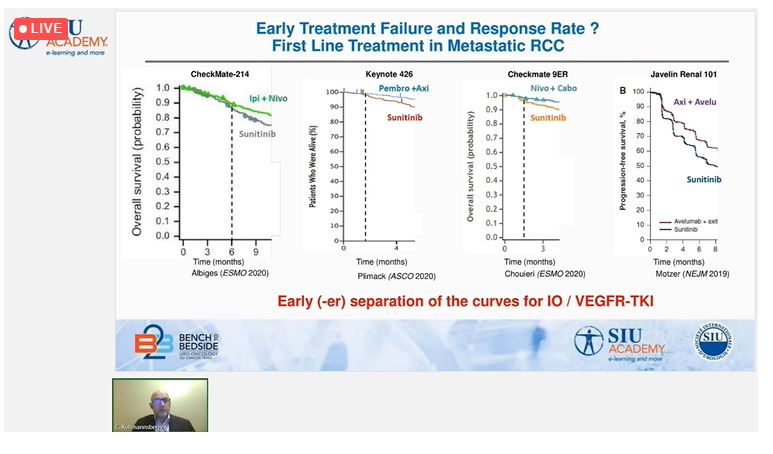 The first session was led by Dr. Christian Kollmannsberger (Canada). He discussed the selection of vascular endothelial growth factor (VEGF)-tyrosine kinase inhibitor (TKI)-targeted therapy or immunotherapy, which has become a major clinical focus in the wake of four recent clinical trials that have influenced the standard of care. In comparison with sunitinib, one trial (CheckMate 214) has demonstrated the superiority of combined immunotherapy and three trials (KEYNOTE 426, JAVELIN Renal 101, and CheckMate-9ER) have demonstrated the superiority of immunotherapy plus a TKI.
When selecting among the available treatment options, Dr. Kollmannsberger recommended first ruling out anyone with contraindications for combination immunotherapy or TKI therapy. Other differentiating factors are rapidity and duration of action. VEGF TKI-based therapies appear to have a more rapid onset of action, as well as better response and primary progressive disease rates than the combination immunotherapy regimen. On the other hand, combination immunotherapy appears to offer a benefit in terms of late progression.
Next, Dr. Simon Tanguay (Canada) summarized five practice-changing advances on the horizon. The first of these is the shift in first-line therapy, which was largely driven by the clinical trials discussed in Dr. Kollmannsberger's talk and will likely be further influenced by two upcoming trials (COSMIC-313 and CLEAR). Secondly, hypoxia-inducible factor 2 (HIF-2) alpha inhibition with investigational MK-6482 is a promising avenue for novel therapy that is currently being investigated for clear-cell RCC.
Predictors that might help direct treatment selection in the near future include PBMR1 mutations, the gut microbiome, genomic profile predictors, and liquid biopsy technology. Adjuvant therapy has been a discouraging area in RCC; the long-lasting benefits of immunotherapy suggest it may be useful in the adjuvant setting, however. Finally, recent research has helped shed light on when cytoreductive nephrectomy might prove useful. Notably, the CARMENA study demonstrated that cytoreductive nephrectomy with sunitinib did not provide benefits over sunitinib alone among intermediate-to-high-risk patients, but SURTIME suggested that deferring nephrectomy until after TKI therapy may be beneficial.
The third speaker was Dr. Thomas Powles (United Kingdom), who discussed personalizing treatment in RCC and adapting to the changing times. He anticipates that CheckMate 9ER will likely lead to the approval of nivolumab plus cabozantinib first-line, which represents an exciting new option. He also anticipates that angiogenesis and immune-associated genetic biomarkers as well as PD-L1 status may soon be able to predict response to therapy.
Dr. Powles then shifted to speak specifically about how the COVID-19 pandemic has influenced care for patients with RCC. The number of patients undergoing evaluation and treatment for cancer is not back up to pre-pandemic levels, and patients are presenting with more advanced disease. The good news is that there is no clear evidence that any treatment for RCC places patients at higher risk for COVID-19. In addition, there is no longer concern that hospitals will be unable to manage patients requiring hospitalization. Surgery and treatment are back to pre-pandemic protocols, with additional safety measures in place to minimize risk of spreading the virus. Patient education about how to minimize risk is essential, and follow-up is being conducted via telemedicine, when feasible.
Next, there was a case-based discussion on the management of oligometastatic RCC, which was moderated by Dr. E. Jason Abel (United States) and included input from a panel of experts comprising Dr. Kollmannsberger as well as Dr. Jose Karam (United States) and Dr. Hirotsugu Uemura (Japan). Highlights included how to determine whether patients with chronic kidney disease might require dialysis following removal of an extremely large kidney tumour, treatment selection for advanced disease in the absence of clinical trial data to inform decision-making, and management of a patient with Castleman disease.
The final talk was by Dr. Brian Rini (United States), who discussed minimizing immune-related adverse events and maximizing efficacy in RCC. Most toxicity from immunotherapy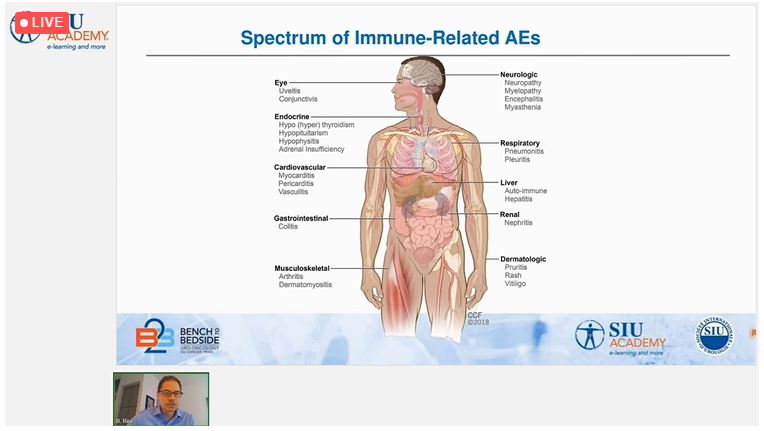 occurs early in treatment, he pointed out, usually in the first 2 weeks to 2 months, although it can occur many months or even years later. Time to resolution is usually 18 to 24 weeks, but hypothyroidism and hypopituitarism may require lifelong replacement therapy.
Immune-related adverse events can be a sign of anti-tumour activity, but it is important to consider how these toxicities, and their management, affect patients' quality of life. Long-term, the goal is to treat patients with the minimum amount of therapy needed to manage the disease. Studies demonstrating durable response in some patients who discontinue therapy early suggest the potential inherent in this approach, and it is under investigation in controlled trials.
Immunosuppression with steroids is the mainstay of treatment for immune-related adverse events. Early evidence suggests this approach will not affect the efficacy of treatment. It appears that immunotherapy can be safely given, with extreme caution, in patients with autoimmune disease, depending on the type of disease and severity. With regard to specific immunotherapies, the risk of immune-related adverse events is higher with cytotoxic T-lymphocyte antigen 4 (CTLA-4) inhibitors than programmed cell death 1 (PD-1)/PD-L1 inhibitors and higher still when both types of agents are used in combination. With CTLA-4 antibodies, the risk is dose-dependent. The anti-VEGF properties of TKIs are dose- and duration-dependent, but the immunomodulatory properties may not be. It is unknown if depth of response correlates with long-term outcomes. Thus, how to balance the intensity and duration of anti-VEGF treatment in an immunotherapy + TKI regimen for maximal benefit/risk is unknown.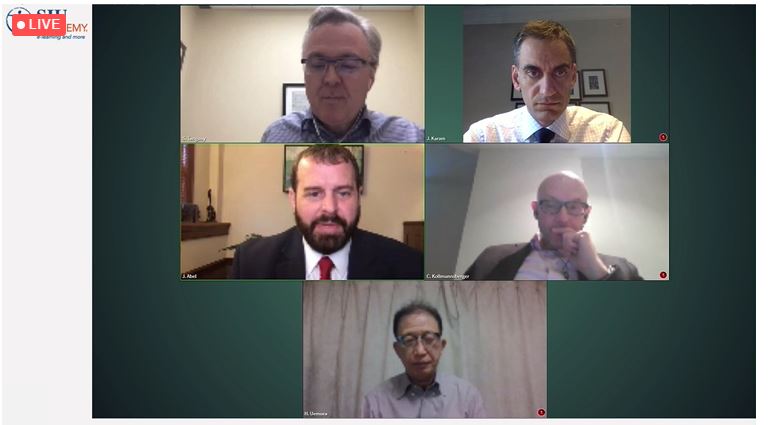 The session on kidney cancer closed with questions from the audience, with questions related to embolization of large tumours prior to nephrectomy, treatment selection in situations where clinical trial evidence offers little guidance, and the role of positron emission tomography (PET) imaging to detect metastatic disease.
Day 2 - Prostate Cancer
On Sunday, November 8th, Drs. Peter Hammerer (Germany) and Chris Evans (United States) welcomed the online participants to the prostate cancer (PCa) session. Dr. Todd Morgan (United States) started the day with an excellent state-of-the-art overview on the testing of germline DNA repair mutations in patients with metastatic PCa, and a summary of recent FDA approvals of poly (ADP-ribose) polymerase (PARP) inhibitors for treating this cancer.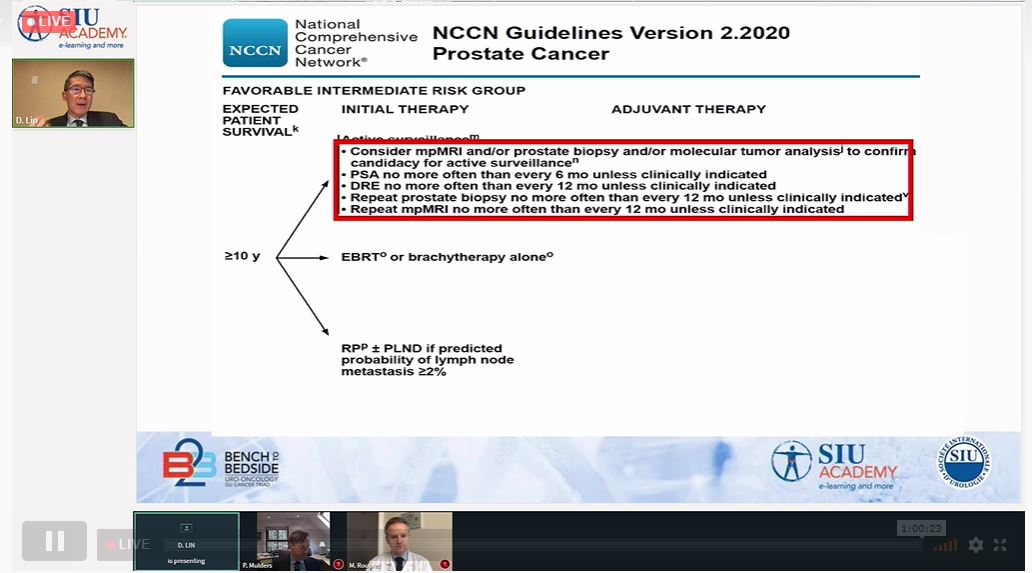 In a case-based panel moderated by Dr. Dan Lin (United States), three prominent speakers discussed whether the use of imaging and biomarkers can replace surveillance biopsies for localized PCa. Dr. Peter Mulders (Netherlands) said that biomarker panel kits can help with the decision model for initial biopsy as well as later risk stratifications in cases of positive biopsy. In the surveillance setting, individual biomarkers such as PCA3 or TNPRSS2-ERG have a lower but discernible ability to stratify the risk of having aggressive cancer, but the increase of power over prostate-specific antigen (PSA) alone to predict high-grade disease is not significant. Dr. Mulders concluded that biomarkers have additional value in PCa detection and stratification, but the additional value in the surveillance setting still needs Level 1 evidence.
Dr. Marc Dall'Era (United States), the second panelist, said that magnetic resonance imaging (MRI) technique, quality, and interpretation are highly variable, and not all cancers are visible on MRI, including aggressive histological variants such as ductal and small cell.  He said that imaging should not replace biopsy, although a well-performed MRI can be used to tailor surveillance biopsy frequency. Improved ultrasound may have a future role.
The final panelist, Dr. Morgan Roupret (France), presented studies supporting his position that the use of biomarkers and imaging are not sufficient for active surveillance of PCa, and of the mandatory need for biopsy. Together, the three panelists agreed that MRI has a clear role in the PCa diagnosis algorithm, but its role in surveillance is still evolving. Biomarkers have also not yet been proven to replace surveillance biopsy, although both biomarkers and MRI should be studied as adjuncts to biopsy.
The next talk was given by Dr. Martin Gleave (Canada) on the topic of neoadjuvant therapy in localized high-risk PCa to improve the outcomes of the more aggressive surgical methods now employed. He summarized current neoadjuvant strategies for the treatment of this PCa.  Neoadjuvant androgen deprivation therapy (ADT)-based combination therapies result in low polymerase chain reaction (pCR) rates of < 10% and no reduced recurrence rates. Neoadjuvant ADT + docetaxel treatment produces signs of clinical improvement, but a longer follow-up is needed. The good news is that there is a new opportunity to evaluate biomarker-driven therapies in neoadjuvant trials to identify the lethality of targeted therapies.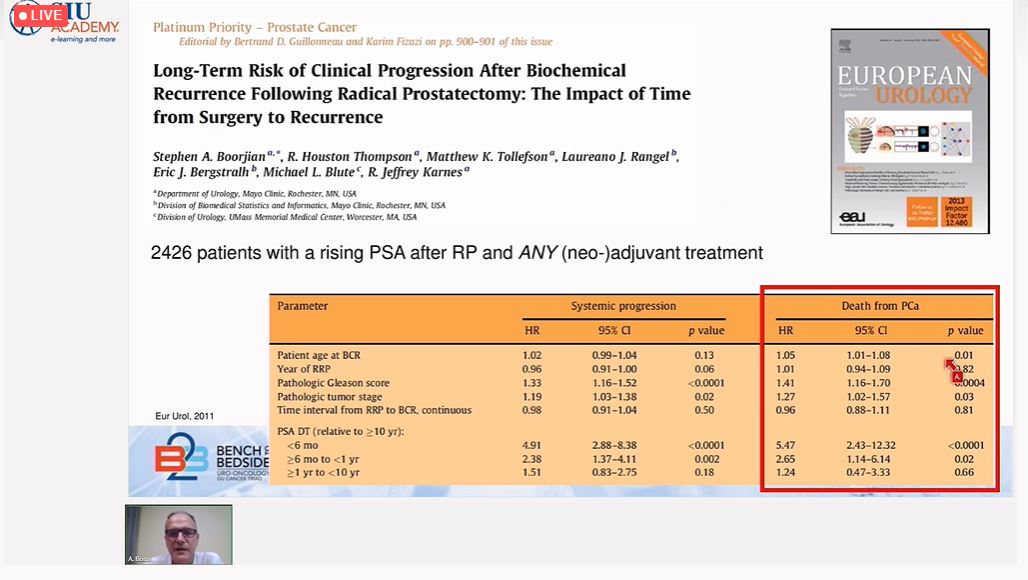 Dr. Alberto Bossi (France), compared adjuvant to salvage radiotherapy (SRT) for the treatment of high-risk locally advanced PCa. SRT is used when post-operative PSA levels are rising from undetectable levels and represents a "wait and see" approach, which may avoid unnecessary treatment. In contrast, adjuvant RT (ART) is used immediately after radical prostatectomy (RP) in cases of extraprostatic extension, positive margins, seminal vesicle infiltration, high Gleason score (GS), pN+, and persistently elevated PSA levels. In these patients, earlier rather than delayed ART is more effective. Based on recent findings, Dr. Bossi's conclusions were that increasing PSA levels after RP are not uncommon and may not always impact prostate cancer-specific mortality (PCSM). Conventionally defined cut-off values may be quite arbitrary in determining the need for SRT, and a more personalized approach should be used. Finally, a significant group of patients may benefit from ART; this would include those with node-positive PCa.
The final presentation on the management of locally advanced PCa was a case-based panel moderated by Dr. Chris Evans (United States). The topic of PSA persistence versus biological recurrence and oncological outcomes was addressed with evaluations of three salvage therapies: SRT, salvage RP, and salvage lymph-node dissection. Dr. Derya Tilki (Germany) provided evidence showing that PSA recurrence must be characterized to select the best patient treatment options using the low- and high-risk group categories, as defined by the European Association of Urology (EAU). Dr. Bossi noted that SRT results in better progression-free survival (PFS) if 6 months of ADT is also provided; he cited two landmark trials, GETUG-AFU-16, and RTOG 9601. Dr. Tilki emphasized that salvage prostatectomy requires careful patient selection, and the side effects are not trivial. Dr. Shin Egawa (Japan) said that prostate-specific membrane antigen (PSMA)-PET imaging can be useful, but it has its limitations. Dr. Evans concluded that salvage pelvic lymphadenectomy is still unproven as a standard of care.
The last three presentations addressed the management of metastatic PCa.
Dr. Kim Chi (Canada) presented some exciting new updates on androgen receptor-axis-targeted therapies (ARAT) strategies. He compared previous ARAT strategies to poly (ADP-ribose) polymerase inhibitors (PARPi) and taxane-based sequencing therapies. In earlier studies, PCa that progressed after ARAT given with ADT for treatment of metastatic castration sensitive prostate cancer (mCSPC) was clinically similar to PCa progression after the same treatment for metastatic castration-resistant prostate cancer (mCRPC). Moreover, switching treatment to another ARAT, such as following enzalutamide with abiraterone, had only modestly improved efficacy. For this reason, different classes of sequenced treatments with different mechanisms of action have been investigated for treatment of mCRPC. Promising results have resulted with the use of a PARP inhibitor, olaparib, followed by taxane chemotherapies such as docetaxel and cabazitaxel, as shown in the very recent trial PROfound. The greatest survival benefit occurs for mCRPCs that contain mutations in BRCA1/2 and are chemo-naïve. More analysis is required to understand optimal selection and sequencing of olaparib.
Dr. Fred Saad (Canada) next led a case-based panel discussion on practical adoption of systemic therapy for treatment of mPCa. The panel (Drs. Alexandre de la Taille [France],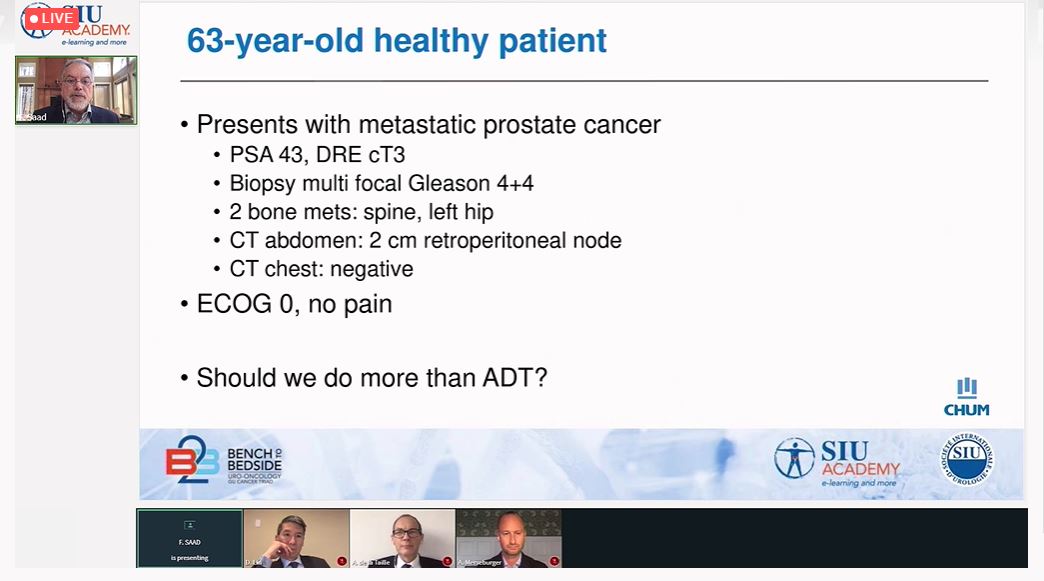 Dan Lin [United States], and Axel Merseburger [Germany]) compared treatment strategies for three scenarios: a healthy mPCa patient presenting with low-risk, low-volume disease and 2 bone mets, a patient diagnosed with cT3NxMO but bone scan negative, and a high-risk, high-volume case with multifocal Gleason 4 + 4 and multiple bone mets. Key points from the STAMPEDE, LATITUDE, ENZAMET, PROSPER, SPARTAN, and ARAMIS trials were discussed in the contexts of these cases. Genomic testing may benefit the high-risk case, and if breast cancer susceptibility gene 1/2 (BRCA1/2) mutations are found, ARAT therapy involving a PARP inhibitor would be especially recommended, following the American Urological Association (AUA) guidelines that in sequencing agents, clinicians should avoid treatments that use a similar mechanism of treatment as previous treatments.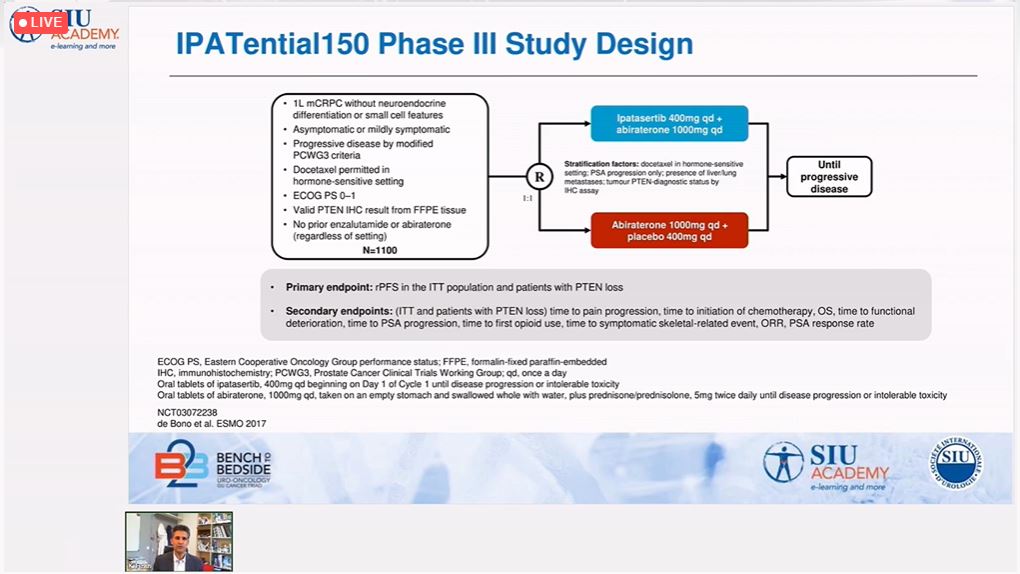 In the final session of the day, Dr. Karim Fizazi (France) discussed recent treatment targets for mCRPC treatment, each representing a different proliferative pathway. Because androgen receptor (AR) mutations occur in about 25% of mCRPC, treatment alternatives to AR pathway inhibitors are under active investigation. PSMA theranostics using 177Lu-PSMA-617 demonstrated a >50%  PSA response at 12 weeks. Immunotherapy approaches targeting PD-1/PD-L1 with pembrolizumab + continuous enzalutamide in enzalutamide-progressing CRPC have shown promising results. Abiraterone + ipatasertib have demonstrated extended PFS in the presence of phosphatase and tensin homologue (PTEN) loss. A number of other biomarkers associated with mCRPC have been identified, including those linked to homologous recombination deficiencies. Dr. Fizazi concluded with examples of biomarkers whose loss or mutation have defined roles in mCRPC. The therapeutic targeting of these biomarkers opens promising and novel avenues of treatment for metastatic prostate cancer.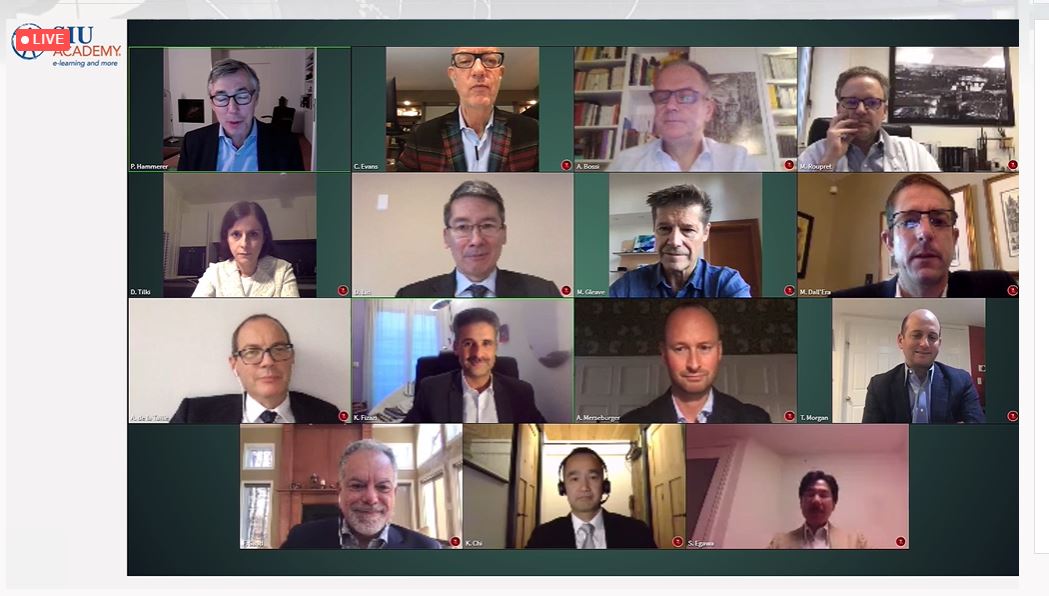 Dr. Hammerer thanked all panelists and attendees for taking part in the prostate cancer session. He then led a 15-minute Q&A session that addressed key issues on the diagnosis and treatment of prostate cancer, with a particular focus on recent research of germline mutations.
Dr. Black thanked the SIU and all panelists and attendees of the 2-day meeting and said that this global virtual meeting had met the SIU mission of providing a means for attendees around the world to update their knowledge on the latest research and changing treatment paradigms of these uro-oncological cancers.
The SIU would like to extend its gratitude to the following

Presenting Sponsors
Bristol Myers Squibb
Merck & Co., Inc.
Merck KGaA, Darmstadt, Germany – Pfizer Alliance

Contributing Sponsor
F. Hoffmann-La Roche Ltd.

With the support of 
World Bladder Cancer Patient Coalition


SIU Academy Top 10 - November
SIU Academy Top 10 - December