SIU Needs Assessment Survey - Deadline January 31
January 17th 2022
The management of GU cancers has changed dramatically in recent years. We are witnessing a rapid evolution in diagnostic modalities with the emergence of novel biomarkers and clinical validation of new diagnostic tools. Treatment approaches and novel therapeutic agents are emerging and offer new opportunities to improve patient outcomes.

In this rapidly changing field, we seek your valuable input to help plan SIU's educational programmes in uro-oncology in 2022. To this end, we have created a short needs assessment survey so that we may accurately gauge the learning interests and educational needs among our members and community regarding the management of prostate, bladder, and kidney cancers.

Survey link: https://bit.ly/3rCaqsH

Closing date: Monday, January 31 at midnight EST.

We thank you in advance for your cooperation in this important endeavour and encourage you to share this survey with your colleagues and within your professional network.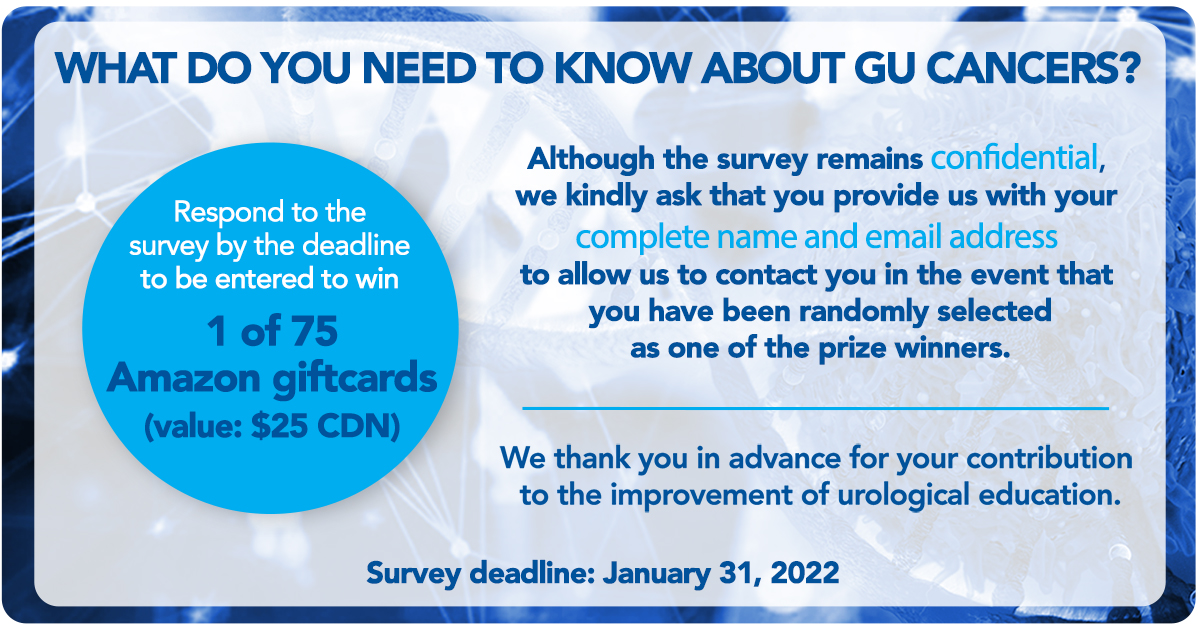 Should you have any questions or concerns regarding the survey or future planning, please contact us at [email protected]

Sincerely,

2022 B2B Uro-Oncology: GU Cancers Triad Scientific Programme Committee

Peter Black, MD, FRCSC (Co-Chair)
Simon Tanguay, MD, FRSCS (Co-Chair)
Alexandra Masson-Lecomte, MS, MD
Derya Tilki, MD
SIU Academy Top 10 – December
First-Ever SIU Regional Meeting - June 10-12, Istanbul