PSA Screening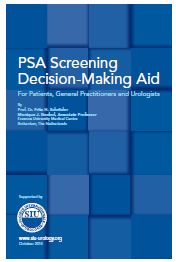 The SIU is proud to support three important PSA Testing Decision Aids.
Developed by a team of experts in prostate cancer, led by Professor Fritz Schröder and Dr Monique Roobol, a decision aid for patients is being distributed with the assistance of men's health movement Movember.
Movember has committed to posting this guide on each of their national websites and will translate the document into each chapter's local language.
The SIU has also produced two additional versions of this document specifically geared toward Primary Care Physicians and Urologists.

Brochure