October 10 - 11 | 40th Congress of the Société Internationale d'Urologie
Questions or concerns? Please let us know—contact us at [email protected]
SIU 2020 Accredited for 16 European CME credits (ECMEC®s)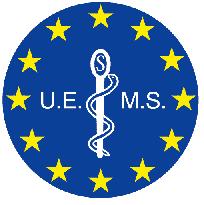 The 40th Congress of Société Internationale d'Urologie – Virtual Event, (live streaming), 10/10/2020-11/10/2020 has been accredited by the European Accreditation Council for Continuing Medical Education (EACCME®) with 16 European CME credits (ECMEC®s). Each medical specialist should claim only those hours of credit that he/she actually spent in the educational activity.
Through an agreement between the Union Européenne des Médecins Spécialistes and the American Medical Association, physicians may convert EACCME® credits to an equivalent number of AMA PRA Category 1 CreditsTM. Information on the process to convert EACCME® credit to AMA credit can be found at www.ama-assn.org/education/earn-credit-participation-international-activities.
Live educational activities, occurring outside of Canada, recognised by the UEMS-EACCME® for ECMEC®s are deemed to be Accredited Group Learning Activities (Section 1) as defined by the Maintenance of Certification Program of the Royal College of Physicians and Surgeons of Canada.
EACCME® credits
Each participant can only receive the number of credits he/she is entitled to according to his/her actual participation at the event once he/she has completed the feedback form. Cf. criteria 9 and 23 of UEMS 2016.20
SIU@U
SIU 2020 will now take place solely via our virtual congress platform, SIU@U, which we have been using for the past 5 years. The platform is user-friendly, interactive and will include many special activities and features to make SIU 2020 a unique digital experience. 
Abstract Submission
Abstract submission has now closed. All abstracts accepted for SIU 2020 are presented as ePosters, via SIU Academy. For more information, please visit the Abstracts page. 
Who Should Log On?
Urologists
Urological Nurses 
Uro-gynecologists
Allied Health Professionals
General Practitioners
Interventional Radiologists
Medical Oncologists
PhDs
Radiation Oncologists
Reconstructive Surgeons
Residents and Trainees