SIU-WJU Article of the Month: December 2019
Contrast media kinetics in multiparametric magnetic resonance imaging before radical prostatectomy predicts the probability of postoperative incontinence
Schmid FA, Wettstein MS, Kessler TM, et al.
World J Urol. 2019. Sep 19. [Epub ahead of print]
Editorial by: Dr. Tilman Todenhöfer (Germany)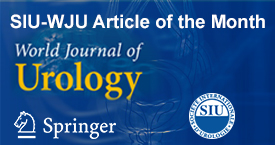 In this final edition of the SIU-WJU Article of the Month, we feature the article by Schmid and colleagues. The authors conducted a prospective evaluation of the role of preoperative multiparametric magnetic resonance imaging (MRI) as a predictor of post-prostatectomy incontinence (PPI).

Featured Commentary
Log in to SIU Academy and view the expert commentary on this article by Dr. Tilman Todenhöfer. Dr. Todenhöfer is a urologist and an Associate Professor at the Eberhard Karls University of Tuebingen in Germany. In this editorial, Dr. Todenhöfer critically appraises the present study and shares his expertise on the capacity of the perfusion quality of pelvic muscle structures with contrast media kinetics to predict PPI.
Good to know:
You can share your feedback on the article and related content in the Rate & Comment box on the right side of the page. In addition, the Article of the Month provides a starting point for interesting discussions online through our social media channels.