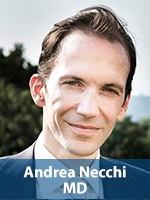 Dr. Andrea Necchi completed both his medical degree and his post-doc specialization in medical oncology at the University of Milan (Italy). Since 2011, he has been working for the Urologic Oncology Faculty at the Department of Medical Oncology, Fondazione IRCCS Istituto Nazionale dei Tumori (Italy). His work is fully dedicated to genitourinary malignancies, and he currently leads a research team focused on topics such as bladder cancer. Dr. Necchi is a board member of the EAU Research Foundation. Since 2015, he has been member of the ESMO Faculty Group in Genitourinary cancers and Member of the ESMO OncologyPRO Working Group. Dr. Necchi has been a principal investigator of several phase 1-2 trials of immuno-oncology combinations in urothelial cancers.
At AUA2019, Dr. Necchi presented on FIERCE-21, a phase 2 study of vogatmab, a selective inhibitor of FGFR3, as salvage therapy in patients with metastatic urothelial carcinoma (mUCC). He has also co-authored research on erdafitinib, which is another pan-fibroblast growth factor receptor (FGFR) inhibitor, and its role in patients with urothelial carcinoma and FGFR alterations.
At the 2019 Annual ASCO Meeting, Dr. Necchi provided his expertise on data from the EV-201 trial and noted that while antibody-drug conjugates represent a promising treatment pathway, the need for biomarker discovery remains a high priority.

Dr. Karim Fizazi is a medical oncologist and a professor in oncology at the University of Paris (France). In April 2019, Dr. Fizazi and his colleagues published the final overall survival analysis of the phase III LATITUDE trial. The combination of abiraterone acetate plus prednisone with ADT was associated with significantly longer overall survival than placebos plus ADT in men with newly diagnosed high-risk mCSPC and had a manageable safety profile. These findings support the use of abiraterone acetate plus prednisone as a standard of care in patients with high-risk mCSPC. The Food and Drug Administration (FDA) approved abiraterone acetate in combination with prednisone based on earlier findings from the LATITUDE trial in 2018.
Dr. Fizazi is also the lead investigator of the ARAMIS trial, which aims to assess the safety and efficacy of darolutamide, a novel investigational antiandrogen agent, in patients with nonmetastatic castrate-resistant prostate cancer (nmCRPC). At the 2019 ASCO Annual Meeting, Dr. Fizazi shared the latest study findings. Not only does darolutamide prolong metastasis-free survival, it also maintains quality of life as well as delays worsening of pain and disease-related symptoms compared with placebo for patients with nmCRPC. The results of the ARAMIS trial led to the FDA's approval of darolutamide for nmCRPC in July 2019.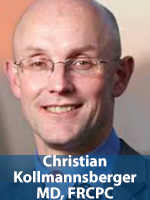 Dr. Christian Kollmannsberger is a medical oncologist with the BC Cancer Agency Vancouver Cancer Centre and clinical professor at the University of British Columbia. Dr. Kollmannsberger became the Chair of the Kidney Cancer Canada Medical Advisory Board in April 2019. As Chair, he has spoken about the benefits of the Kidney Cancer Video Knowledge Library, an exciting new resource offered by Kidney Cancer Canada.
His research interests include treatment of kidney cancer, mechanisms of resistance, and novel therapeutics in kidney cancer. Dr. Kollmannberger co-authored research on the real-world outcomes of nivolumab and cabozantinib in metastatic renal cell carcinoma, using data from the International Metastatic Renal Cell Carcinoma Database Consortium (IMDC). The results of this analysis were presented at ASCO GU 2018. He has also contributed to research papers on outcomes based on prior therapy in the phase 3 METEOR trial of cabozantinib versus everolimus in advanced renal cell carcinoma.

Dr. Kollmannsberger was also a co-author on a subgroup analysis from the JAVELIN Renal 101 trial, which was published in early 2019. This study aims to assess the combination of avelumab plus axitinib versus sunitinib in patients with advanced renal cell carcinoma (RCC). In May 2019, the FDA approved avelumab in combination with axitinib for first-line treatment of patients with advanced renal cell carcinoma (RCC), based on results from the JAVELIN Renal 101 trial.