Read more here.
Kidney Cancer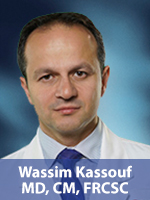 Wassim Kassouf is a urologic oncologist at the McGill University Health Centre (MUHC) in Montreal, Canada. He has been a member of the Canadian Cancer Trials Group (CCTG) for the last seven years. His clinical and translational research focuses on the biology and therapy of bladder cancer.

Currently, Dr. Wassouf is Chair of the CCTG BL13 trial, a randomized phase II study assessing trimodality therapy with or without durvalumab (adjuvant checkpoint inhibition) to treat patients with muscle invasive bladder cancer (MIBC). The BL13 trial aims to address a large unmet need and to evaluate whether combination therapy improves disease control, both locally and in terms of distant metastases, and survival. This trial has the potential to be a ground-breaking study in genitourinary diseases, particularly for patients in the United States and Canada where half of them do not receive any definitive therapy for this disease.
Lecturer: Combining Trimodal Therapy with Checkpoint Blockade 
Dr. Michael Staehler is a professor of urology at the University of Munich and is the founder and head of the Interdisciplinary Centre for Renal Tumours at Ludwig-Maximilians University of Munich. It is the first multi-disciplinary cancer centre for renal neoplasms in Germany and is certified by the German Cancer Society (DKG). 
Dr. Staehler is a member of the EAU European Association of Urology (EAU) guidelines panel on renal cell carcinoma, which recently updated its recommendations for immune checkpoint inhibition based on new evidence from randomized clinical trials (2019). These recent trials have demonstrated a survival benefit for a front-line ipilimumab and nivolumab combination therapy, and pembrolizumab and axitinib combination therapy in metastatic clear-cell renal cell carcinoma. 
Dr. Staehler's main research interest includes the development of novel therapeutics in RCC, particularly in the areas of surgical therapy, novel targeted agents, and radiation therapy. He co-authored a 2019 paper on alternative sequences of sunitinib followed by sorafenib, versus sorafenib followed by sunitinib therapies in patients with mRCC. In 2018, Dr. Staehler et al. published research findings on the S-TRAC trial, which assessed safety, therapy management, and patient outcomes of adjuvant sunitinib in patients with high-risk RCC. 
Clinical development of immunotherapy for kidney cancer: multimodal therapy of mRCC – case-based panel (cytoreductive Nx and SABR or surgery of mets)
Prostate

Cancer

Dr. Alberto Bossi is currently Head of the Urology and Prostate Brachytherapy Unit at the Department of Radiation Oncology at the Gustave Roussy Cancer Institute in France. He has served as Coordinator of the Genito-Urinary Working Group of the EORTC and is the Director of the Multidisciplinary ESTRO-EAU-ESMO Teaching Course on Prostate Cancer. 
Dr. Bossi is principal investigator (PI) and co-PI of major European phase III trials on prostate cancer. He has published over 75 papers in peer-reviewed journals and several chapters in books devoted to uro-oncology and is also a reviewer for several journals.  
As part of the multidisciplinary prostate cancer session at 16th Meeting of the European Section of Oncological Urology (ESOU) in 2019, Dr. Bossi discussed treatment options for men with Gleason 3+4 disease and presented his thoughts on hypofractionated radiation therapy. He also co-authored an overview of bachytherapy for clinicians that was published in July 2019.  
Prostate Cancer I: Management of High-Risk Non-Metastatic Prostate Cancer: What is important for the radiotherapist?
Bladder Cancer

Dr. Petros Grivas is a board-certified medical oncologist at Seattle Cancer Care Alliance (SCCA), with expertise and experience in treating genitourinary (GU) cancers. He is the Clinical Director of the Genitourinary Cancers Program at University of Washington and Associate Professor in the Department of Medicine, Division of Oncology. He is also Associate Member at the Fred Hutchinson Cancer Research Center.  
Dr. Grivas completed his training at the University of Patras Medical School (Greece) and completed his M.D. degree in 2005. He then pursued a Ph.D. in Medical Oncology under the mentorship of key academic faculty and successfully defended his thesis in late 2008. He completed his Residency in Internal Medicine at Hahnemann University Hospital/Drexel University College of Medicine (USA) in 2010. He completed his Fellowship in Hematology/Oncology at the University of Michigan (USA) in 2013. He stayed there as Clinical Lecturer for another year before he was recruited as Assistant Professor at the Cleveland Clinic (USA) where he led the bladder/urothelial cancer program, pursuing clinical and translational research, teaching trainees, and seeing patients with GU cancers.  
Dr. Grivas has had a primary role in numerous clinical trials, the results of which have led to the FDA approval of new drugs for bladder/urothelial cancer. He is considered a key opinion leader and international expert and is highly experienced at delivering lectures to international audiences, educating oncologists and other healthcare providers and trainees, leading large innovative clinical trials, reviewing grant proposals and manuscripts, and publishing novel and important research. His work is dedicated to the provision of efficient, personalized, and outstanding patient care and believes in optimal patient-physician relationships as well as community outreach. 
In recent years, Dr. Grivas has been featured in several video lectures at ESMO 2018 and ASCO 2018, sharing his perspectives on some important topics in urology. These conversations centered around immuno-oncology in bladder cancer, treatment for advanced bladder cancer, as well as the role of erdafitinib as a potential treatment options in patients with metastatic urothelial carcinoma. 
Clinical Development of Immunotherapy for Bladder Cancer: Immunotherapy in Metastatic Urothelial Carcinoma.
Bladder Cancer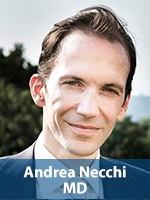 Dr. Andrea Necchi completed both his medical degree and his post-doc specialization in medical oncology at the University of Milan (Italy). Since 2011, he has been working for the Urologic Oncology Faculty at the Department of Medical Oncology, Fondazione IRCCS Istituto Nazionale dei Tumori (Italy). His work is fully dedicated to genitourinary malignancies, and he currently leads a research team focused on topics such as bladder cancer. Dr. Necchi is a board member of the EAU Research Foundation. Since 2015, he has been member of the ESMO Faculty Group in Genitourinary cancers and Member of the ESMO OncologyPRO Working Group. Dr. Necchi has been a principal investigator of several phase 1-2 trials of immuno-oncology combinations in urothelial cancers.
At AUA2019, Dr. Necchi presented on FIERCE-21, a phase 2 study of vogatmab, a selective inhibitor of FGFR3, as salvage therapy in patients with metastatic urothelial carcinoma (mUCC). He has also co-authored research on erdafitinib, which is another pan-fibroblast growth factor receptor (FGFR) inhibitor, and its role in patients with urothelial carcinoma and FGFR alterations.
At the 2019 Annual ASCO Meeting, Dr. Necchi provided his expertise on data from the EV-201 trial and noted that while antibody-drug conjugates represent a promising treatment pathway, the need for biomarker discovery remains a high priority.
Moderator - Biomarkers of response to immunotherapy: Developing biomarkers for clinical utilization in advanced bladder and kidney cancers – Panel discussion
Prostate Cancer

Dr. Karim Fizazi is a medical oncologist and a professor in oncology at the University of Paris (France). In April 2019, Dr. Fizazi and his colleagues published the final overall survival analysis of the phase III LATITUDE trial. The combination of abiraterone acetate plus prednisone with ADT was associated with significantly longer overall survival than placebos plus ADT in men with newly diagnosed high-risk mCSPC and had a manageable safety profile. These findings support the use of abiraterone acetate plus prednisone as a standard of care in patients with high-risk mCSPC. The Food and Drug Administration (FDA) approved abiraterone acetate in combination with prednisone based on earlier findings from the LATITUDE trial in 2018.
Dr. Fizazi is also the lead investigator of the ARAMIS trial, which aims to assess the safety and efficacy of darolutamide, a novel investigational antiandrogen agent, in patients with nonmetastatic castrate-resistant prostate cancer (nmCRPC). At the 2019 ASCO Annual Meeting, Dr. Fizazi shared the latest study findings. Not only does darolutamide prolong metastasis-free survival, it also maintains quality of life as well as delays worsening of pain and disease-related symptoms compared with placebo for patients with nmCRPC. The results of the ARAMIS trial led to the FDA's approval of darolutamide for nmCRPC in July 2019.
Lecturer - Prostate Cancer II: Sequencing of Systemic Therapy for Metastatic Castration-Sensitive Prostate Cancer (mCSPC) and Metastatic Castration-Resistant Prostate cXncer (mCRPC).
Kidney Cancer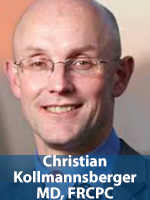 Dr. Christian Kollmannsberger is a medical oncologist with the BC Cancer Agency Vancouver Cancer Centre and clinical professor at the University of British Columbia. Dr. Kollmannsberger became the Chair of the Kidney Cancer Canada Medical Advisory Board in April 2019. As Chair, he has spoken about the benefits of the Kidney Cancer Video Knowledge Library, an exciting new resource offered by Kidney Cancer Canada.
His research interests include treatment of kidney cancer, mechanisms of resistance, and novel therapeutics in kidney cancer. Dr. Kollmannberger co-authored research on the real-world outcomes of nivolumab and cabozantinib in metastatic renal cell carcinoma, using data from the International Metastatic Renal Cell Carcinoma Database Consortium (IMDC). The results of this analysis were presented at ASCO GU 2018. He has also contributed to research papers on outcomes based on prior therapy in the phase 3 METEOR trial of cabozantinib versus everolimus in advanced renal cell carcinoma.

Dr. Kollmannsberger was also a co-author on a subgroup analysis from the JAVELIN Renal 101 trial, which was published in early 2019. This study aims to assess the combination of avelumab plus axitinib versus sunitinib in patients with advanced renal cell carcinoma (RCC). In May 2019, the FDA approved avelumab in combination with axitinib for first-line treatment of patients with advanced renal cell carcinoma (RCC), based on results from the JAVELIN Renal 101 trial.
Clinical Development of Immunotherapy for Kidney Cancer: Immunotherapy in Metastatic RCC
Adverse Events/Toxicities: Case-based Discussions on Adverse Events/Toxicities Associated with Immunotherapy
Bladder Cancer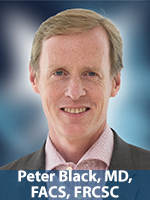 Dr. Peter Black is a Urologic Oncologist at Vancouver General Hospital, a Research Scientist at the Vancouver Prostate Centre, and Professor in the Department of Urologic Sciences at the University of British Columbia.  He received his undergraduate degree from the University of British Colombia in Vancouver and his medical degree from Johannes Gutenberg University in Mainz, Germany (1997). He completed his urologic training at the University of Washington in Seattle (2005) and fellowship in urologic oncology at M.D. Anderson Cancer Center in Houston, Texas (2008). 
Dr. Black has a clinical subspecialty interest in bladder and prostate cancer. He also maintains a grant-funded translational research program in urothelial carcinoma with a focus on mechanisms of resistance to chemotherapy and immunotherapy, and novel targeted therapies for bladder cancer. He is Study Chair of a North American co-operative group trial (S1605) investigating the efficacy of immune checkpoint blockade in patients with BCG-unresponsive non-muscle invasive bladder cancer. He serves on the Board of Directors of the Société Internationale d'Urologie (SIU) and is General Secretary of the International Bladder Cancer Network.
Lecturer - Immunotherapy and Evolving Therapies in NMIBC
Moderator:
- Panel Discussion: Clinical Development of Immunotherapy for Bladder Cancer
- Panel Discussion: The Pipeline
Prostate Cancer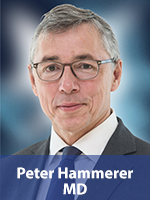 Dr. Peter Hammerer is a specialist in urology, urological surgery, medical tumour treatment, and andrology at the Braunschweig Municipal Hospital in Braunschweig (Germany). He is also Professor and Chairman of the Department of Urology and Uro-Oncology at the Academic Hospital Klinikum Braunschweig, which is one of the largest hospitals in Germany. Dr. Hammerer serves on the SIU Board of Directors as the Congress Organizing Chair. His clinical and research focus is on prostate, kidney and bladder cancers, and he is involved in many clinical Phase II and Phase III trials in uro-oncology. He is an internationally renowned expert in urological cancers and specializes in the diagnosis and treatment of prostatic tumours, bladder tumours, renal pelvis tumours and renal cell carcinomas.
At the annual SIU Congress in 2018, Dr. Hammerer presented the utilization of ultrasound and mpMRI in the diagnosis of prostate cancer. He also discussed other topics, including the role of systematic vs. targeted biopsies.

Dr. Rafael Sanchez-Salas is a surgeon and clinician scientist with an interest in minimally invasive treatments in urological oncology. He has created a sound international career as a talented surgical proctor (laparoscopy and robotics) and cancer researcher. He is an established leader in the field of focal therapy for the treatment of localized prostate cancer and has (co-)authored a substantive number of scientific papers on the topic. His current research priorities include the impact of focal therapy on the prostatic micro-environment and patient outcomes. He serves on the SIU Board of Directors as the Congress Organizing Elect. Dr. Sanchez-Salas has also chaired the Joint SIU-ICUD Consultation on Image Guided Therapies for Prostate and Kidney Cancers in 2015 for which he is also the co-editor of the publication.
Dr. Sanchez Salas has recently published research on salvage robotic-assisted radical prostatectomy, looking at oncologic and functional outcomes. He has also contributed to a study of patients with urothelial bladder cancer, which assessed the differential effect of robotic assisted radical cystectomy (RARC) versus open radical cystectomy (ORC) on survival outcomes in matched analyses performed on a large multicentric cohort.
Kidney Cancer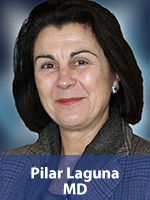 Dr. Pilar Laguna completed her degree in medicine at the Autonomous University of Barcelona (Spain). She is currently a professor in urological oncology both at the Amsterdam UMC University Hospital and Istanbul Medipol University.
Dr. Laguna is past chairman of the EAU guidelines committee on testicular cancer and serves at present as committee member. Dr. Laguna is a former chairperson of the ablative working party of the EAU Section of Uro-Technology (ESUT). Her main interest is renal cancer and she has helped pioneer the development of programs on renal cryosurgery in Europe. She was the appointed chairperson of the Renal Mass study that is conducted by the Clinical Research Office of the Endourological Society (CROES). She is a member of the uro-oncology kidney sub-committee of the SIU Academy.  Within the Editorial Board of the World Journal of Urology, she holds the position of Associate Editor on behalf of the SIU.
Dr. Laguna has published over 300 peer-reviewed articles in the field of urology, with special focus on minimally invasive therapy, oncological urology, and endourology.