Gamification in Medical Education – Learning "Outside the Box"
July 15th 2020
As we continue to fight the COVID-19 pandemic, many medical educators are faced with the challenge of how to continue providing high-quality and engaging medical education in a virtual setting.
A frequently used problem-based learning approach involves the use of games for learning, also known as gamification. Gamification takes the design elements from traditional games and applies them to a non-game or real-world setting.1 In medical education, this represents another way to think "outside the box", requiring learners to shift from the traditional approach to learning.
Why Gamification?
There has been a growing evidence for gamification in a wider pedagogical context, with the concept also being adapted in medical education.1 Over the past 20 years, medical education games, mobile applications, and virtual patient simulations (together termed "gamified training platforms") for both preclinical and clinical training have been developed.2 The use of gamification in medical education has risen with the increased use of technology and availability of online learning platforms. While the use of technology is not essential, it has become increasingly important and prevalent as each new generation of students enters medical school with a higher degree of literacy in digital technologies. Moreover, technology-enhanced gamification can also provide opportunities for improved engagement, problem solving and cooperative teamwork, skills that are important to future health care delivery.1 The benefits of game-based learning extends further beyond the introduction of new concepts. Repetition is key to reinforcing learning and represents an effective method of synthesizing large amounts of information, as well as improving learning retention.3 In addition, game-based learning also promotes competition among peers, improving their motivation and inspiring collaborative learning.4-7
We have asked our community on Twitter if they have used educational games as a learning tool. The results are quite interesting. About 49% of our responders indicated they have used games for learning, while 51% have not.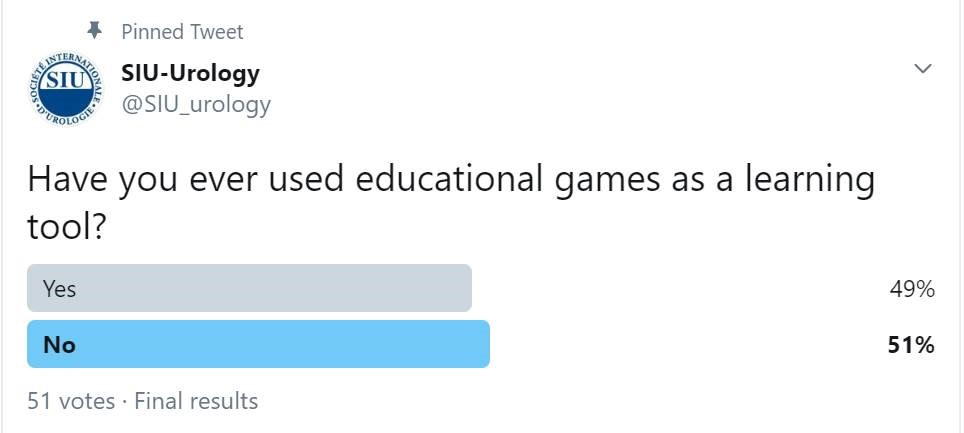 To address the need for innovative and other engaging ways of learning, the SIU launched its first-ever web-based application educational game on the topic of bladder cancer in 2019, the I-O Challenger. Due to overwhelming demand for this type of learning approach and the success of I-O Challenger, we are proud to launch two games this year, the I-O+ Challenger, an update from last year's bladder cancer game, and the RCC Quest, a game based on renal cell carcinoma. Both games are accessible via the SIU uRCADE. These games are available to all those interested in updating their knowledge in the ever-expanding field of therapies for bladder and kidney cancer, and for those who may not have had a chance to try game-based approaches to learning. Click below to enter the uRCADE.

References:
Singhal S, Hough J, Cripps D. Twelive tips for incorporating gamification into medical education. MedEdPublish Available online: https://www.mededpublish.org/manuscripts/2678
McCoy, L., Lewis, J. H. and Dalton, D. Gamification and Multimedia for Medical Education: A Landscape Review, J Am Osteopath Assoc 2016;116(1):22-34. Available online:  https://doi.org/10.7556/jaoa.2016.003
Friedlander MJ, Andrews L, Armstrong EG, Aschenbrenner C, et al.What can medical education learn from the neurobiology of learning? Acad Med 2011;86(4):415-20. https://doi.org/10.1097/ACM.0b013e31820dc197
Malone T. and Lepper M. (1987) Making learning fun: A taxonomy of intrinsic motivations for learning. In: Aptitude, learning and Instruction III: Cognitive and affective process analysis.  1987; Hillsdale, NJ: Lawrence Erlbaum.
Janssen A, Shaw T, Goodyear P, Kerfoot BP, et al.A little healthy competition: using mixed methods to pilot a team-based digital game for boosting medical student engagement with anatomy and histology content. BMC Medical Education 2015;15(1):173. https://doi.org/10.1186/s12909-015-0455-6
Laal M and Ghodsi, SM. Benefits of collaborative learning. Procedia - Social and Behavioral Sciences, 2012;31, pp. 486-490. https://doi.org/https://doi.org/10.1016/j.sbspro.2011.12.091
Vill RV, Nassrallah Z. A Game-Based Approach to Teaching and Learning Anatomy of the Liver and Portal Venous System. MedEdPORTAL. 2018;14:10696 Available on: https://www.ncbi.nlm.nih.gov/pmc/articles/PMC6342388/
SIU Training Centres - Scholarship Report
Use of BPH mobile app during the COVID-19 pandemic published